I. Introduction
Unleashing Business Growth Through a Website: The Journey of Hannah's Handmade Crafts
In the picturesque town of Willowbrook, nestled amidst rolling hills and framed by vibrant forests, lived Hannah, a talented artisan with a passion for crafting handmade treasures. Her creations, ranging from intricately designed jewelry to beautifully woven textiles, held a unique charm that couldn't be found in mass-produced goods. Hannah's Handmade Crafts, as her small artisanal business came to be known, was more than just a shop; it was a testament to her love for craftsmanship.
However, there was a challenge that many small businesses face in today's digital age—visibility. Despite the undeniable beauty and quality of her creations, Hannah's Handmade Crafts remained hidden within the confines of her charming little store. That was until the day Hannah decided to take her first step into the digital landscape, where the importance of a business website would reveal itself as a catalyst for growth.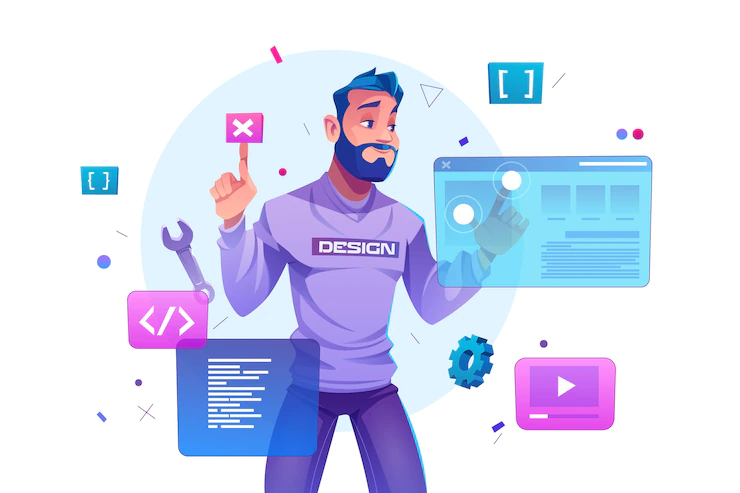 In this blog, we will embark on a journey through the profound importance of having a website for business growth. We will explore how a well-crafted website can transform the fate of businesses, connecting them with a global audience and unlocking endless possibilities. Moreover, we will introduce you to our WordPress website development services and WordPress courses, designed to empower businesses like Hannah's Handmade Crafts with the tools they need to thrive in the digital era.
II. The Digital Landscape: A New Frontier for Business
In an age where the world is at our fingertips, consumers have developed new habits. They conduct online research, explore reviews, and make purchasing decisions from the comfort of their screens. This digital transformation has rewritten the rules of business engagement. From artisans in Willowbrook to tech giants in Silicon Valley, having a robust online presence has become an imperative.
For Hannah, this shift in consumer behavior presented both a challenge and an opportunity. The challenge lay in adapting to the evolving landscape, but the opportunity was boundless—access to a global audience, potential customers from across the world, and the ability to tell her brand story to a wider audience.
III. The Foundation of Online Presence: Your Business Website
The digital era operates on the foundation of websites. A business website is akin to a digital storefront, available 24/7, welcoming visitors from every corner of the globe. It's not just a website; it's a gateway to your business, a portal where potential customers step in to explore, discover, and engage with your brand.
Hannah recognized the need for this digital gateway. Her decision to create a website for Hannah's Handmade Crafts was a pivotal moment in her journey. It was a decision that would elevate her business from a hidden gem to a global sensation.
IV. Benefits of Having a Business Website
Hannah's experience highlights the myriad benefits of having a website for business growth:
Increased Visibility and Reach: A website eliminates geographical boundaries, opening up your business to a global audience. Your creations, products, or services can be discovered by anyone, anywhere.
Enhanced Credibility and Trust: A professional website instills confidence in potential customers. It's a testament to your commitment to your craft and showcases your brand in the best light.
Improved Customer Engagement and Communication: Websites provide a platform for customers to connect with your business, ask questions, and offer feedback. This engagement builds lasting relationships.
Lead Generation and Sales Opportunities: With the right design and content, a website can be a powerful tool for lead generation and converting visitors into paying customers.
But what about the platform for creating this digital gateway? This is where WordPress steps in.
V. The WordPress Advantage
WordPress, the world's most popular content management system, offers a powerful advantage for businesses like Hannah's Handmade Crafts. Its user-friendly interface, extensive library of plugins and themes, and scalability make it the preferred choice for creating and managing websites.
For Hannah, who was not a tech-savvy artisan but a master of her craft, WordPress was a revelation. It empowered her to take control of her online presence, allowing her to showcase her creations to the world. And the best part? She could do it without learning complex coding or hiring expensive developers.
VI. The Role of Professional Website Development
While WordPress makes it accessible, the role of professional website development cannot be overstated. The difference between a basic website and a custom-designed, high-quality website can be the difference between attracting potential customers and sending them away disappointed.
A well-designed website aligns with your brand's unique identity, ensuring that every element—from color schemes to typography—speaks the language of your business. It sets you apart from competitors and creates an unforgettable impression.
Hannah's Handmade Crafts experienced this transformation firsthand when she opted for professional website development. Her website became a work of art in itself, mirroring the elegance and charm of her handmade creations.
VII. Your WordPress Website Development Services
Our WordPress website development services are designed to bridge the gap between business vision and digital reality. We take businesses like Hannah's Handmade Crafts on a journey to unlock their online potential. Our services include:
Customized WordPress Website Design: Tailored to your brand's unique identity and goals.
Responsive and Mobile-Friendly Layouts: Ensuring your website looks and works flawlessly on all devices.
User-Friendly Navigation and Functionality: A seamless experience for your visitors, leading them to what they seek effortlessly.
SEO Optimization: Boosting your search engine visibility to attract organic traffic.
Integration of E-commerce and Online Payment Systems: Facilitating online sales and transactions.
Our mission is to transform your digital vision into reality and provide you with the digital gateway your business deserves.
VIII. Mastering WordPress: Your WordPress Courses
But what if you wish to take control of your digital destiny? What if you want to be the master of your online presence? Our WordPress courses are designed for individuals and businesses looking to acquire the skills needed to manage and optimize their websites effectively.
Our courses include:
WordPress Basics and Setup: A comprehensive guide to getting started with WordPress.
Customization and Design Techniques: Learn to create a website that mirrors your brand's identity.
SEO and Content Optimization: Drive organic traffic and engage your audience effectively.
E-commerce Integration: Unlock the potential of online sales.
Website Security and Maintenance: Ensure your digital storefront is safe and operational.
Empower yourself with the knowledge and skills needed to navigate the digital landscape confidently.
X. Conclusion
In conclusion, the journey from the charming town of Willowbrook to the digital landscape was a transformative one for Hannah's Handmade Crafts. The importance of having a website for business growth became evident as her business blossomed into a global sensation, connecting her creations with a worldwide audience.
At Rajkamal Marketing Agency, we're dedicated to empowering businesses and individuals with the same opportunity. Whether you're an artisan, entrepreneur, small business owner, or visionary creator, a website can be the key to unlocking your business's full potential.
Don't miss out on the chance to transform your business's digital identity, connect with a global audience, and unlock endless possibilities. Contact us today for our WordPress website development services or enroll in our WordPress courses to embark on a journey of digital empowerment. Your online adventure awaits.